On Thursday of this week I was returning from the Risk and Assurance Group conference in New Orleans.  Because there were no direct flights to Buffalo (or Toronto), from NOLA, my return trip had me going through Newark Liberty International Airport - EWR.
I had a great morning in New Orleans on Thursday - I got some cigars from The Cigar Factory, which is an amazing experience if you've never done it. You actually get to watch them roll cigars right in front of you.  After that I went to the Two Chicks Cafe for lunch - a place a highly recommend if you're in the area for a quick bite.  With my stomach full I headed to the airport to head home.  
The flight from Louis Armstrong (MSY) to EWR was perfect - it departed on time, and aside from a little bit if turbulence landing it was a very nice flight which arrived just after 19:00.  My original itinerary had a 42 minute layover before my flight to Buffalo, but as I landed in EWR I was greeted with a text message that my flight would now be departing at 9:30PM.

Two hours I thought to myself - that's not terrible.  I'll still get into Buffalo around 23:00, and be home around 12:30-1.  The delay was annoying, but hey, these things happen and you need to take them in stride.
To pass the time, I went to the United Lounge in Terminal C but it was packed full of people and the food options were terrible.  A small garden salad and some sad looking pieces of a turkey sandwiches was all they had on offer, which is pretty par for lounge food in these COVID times.   With no place to sit to "enjoy" the food, I decided to pass and see what the concourse had to offer.
I wandered around the terminal for 30 minutes trying to find somewhere where I could at least be somewhat separated from my fellow travellers when I found Daily where I got a seat with some distance.  The food was actually pretty good - I got chicken parmesan and it was well seasoned and the pasta sauce had great flavour. My only complaint is the price - $35 is a bit steep for a flatted chicken breast and some pasta.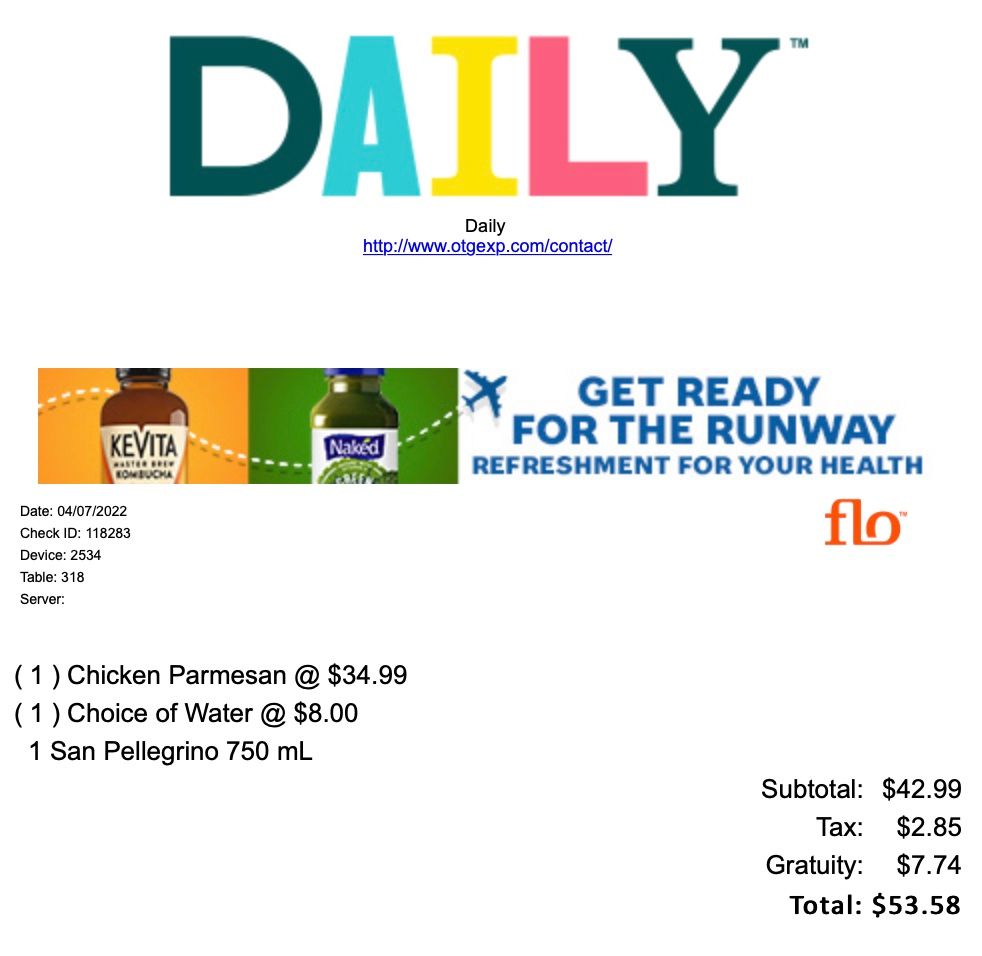 Just as I finished eating, I got another text message from United at 22:00 that my flight was delayed again, this time till 23:36PM.

Again, I was annoyed, and starting to worry if I'd be able to safely make the trip home since I still had a 90 minute drive after the flight to Buffalo.  At this point I would have landed in Buffalo just after 1AM and home sometime between 2:30-3AM.  With nothing else to do, I found a seat in a quiet part of the terminal and watched Netflix to pass the time.  
At 21:30 I got yet another text message from United - the flight was pushed back another hour.

With the new departure time I'd be getting home at 4AM.  That's in the danger zone for driving - maybe I'd have to spend the night somewhere near the Buffalo airport. I checked the rebook options provided by United and there were no other flights that evening, so I accepted my fate, did a few laps of the terminal to close the rings on my Apple Watch, and went back to Netflix.  
Shortly after sitting down, just after 22:00, I get another text message from United.

Great.  Now not only do I have to go backwards to Washington get to Buffalo, I have 10 hours before my next flight departs.  I left the secure part of the terminal and attempted to speak to someone from United customer care, but the line was several hundred people long - mostly spring break travellers who had flights cancelled and delayed.  I decided it wasn't worth the wait and naively attempted to see if the baggage service people could just retrieve my checked bag.  If I could get by bag, I thought, I could at least control my own fate and change airlines if needed.  
When I got to the baggage area there were again several hundred people with the same idea.  A United rep was loudly announcing given the number of cancelled flights they would not be retrieving any bags.  
Not wanting to spend the night sleeping in the terminal, I used HotelTonight to find a cheap room at the Hampton Inn & Suites Newark-Harrison-Riverwalk, 5 miles away from the airport.  It was now 22:41 on Thursday night.
Stepping out of the airport to get an Uber, I was hit with surge pricing - my 4.92 miles, 12 min trip to the hotel was going to be $45 USD.  What choice did I have?  I needed to get some sleep.  I took it and had a quick and uneventful trip to the hotel.  After checkin I went up to my room.  It was now about 23:30PM.  With my next flight at 6AM, I set an alarm for 4:30AM, and tried to sleep.
The 4:30AM alarm came way too soon.  My body wanted more sleep, but my brain knew that wasn't an option.  I got dressed in the same clothes again, checked out, and ordered an Uber.  At least this time the pricing was reasonable - only $18 to get back to EWR.  It was now 4:55AM.
At EWR I breezed through security - the line was short as the airport wasn't busy yet.  Boarding for UA686 started just as I got to the gate and so by 5:20AM I was sitting on the plane.  I was pretty frustrated I had to basically backtrack to IAD and transfer planes to Buffalo but at least I was going somewhere.  
As we neared the 6AM departure time for UA686 the flight attendant came over the PA to make an announcement - somehow they had loaded an extra 21 thousand pounds of fuel into the plane and it was too heavy to take off.  A few minutes after that they announced they needed to deplane until they resolved the fuel issue and would reboard in 30-45 minutes.  I already had a tight connection in Washington so I knew I was screwed - I'd never make the connecting flight to Buffalo at this point.  
After standing in line at the gate for 45 minutes I spoke to a United rep who offered to book me onto a late afternoon flight to IAD and then to BUF.  I said I'd rather cancel my flight and figure it out myself - at this point I'd lost faith in United and figured I'd just drive.  She said retrieving my bags would be a few hours, which I agreed to, and so I left the secure part of the airport and headed to luggage services.  My plan was now to get my bag, rent a one-way car from EWR to BUF, and drive the 6 hours between the two.  At least I'd be in control of my own destiny and could take work calls while on the road.
Arriving at baggage services, the line wasn't terrible - only about 20 minutes long.  I spoke to a United rep and provided them with my baggage tracking number.  They said my bag was still at EWR, but it would take up to 3 hours for it to appear on baggage carousel #9.  So I made my way over to #9 and waited.  I met a group of 5 girls who had been there all night waiting for bags.  They were exhausted and just rightly just wanted to go home.  At one point one of them was crying after speaking to United customer service.   It was in this moment I was grateful for my 4 hours of sleep in the hotel the night before - these girls had to catch whatever sleep they could resting against concrete pillars in a busy baggage area.  At some point one of the pillars became free and I staked my spot.  I took a few work calls and tried to make the best of the wait.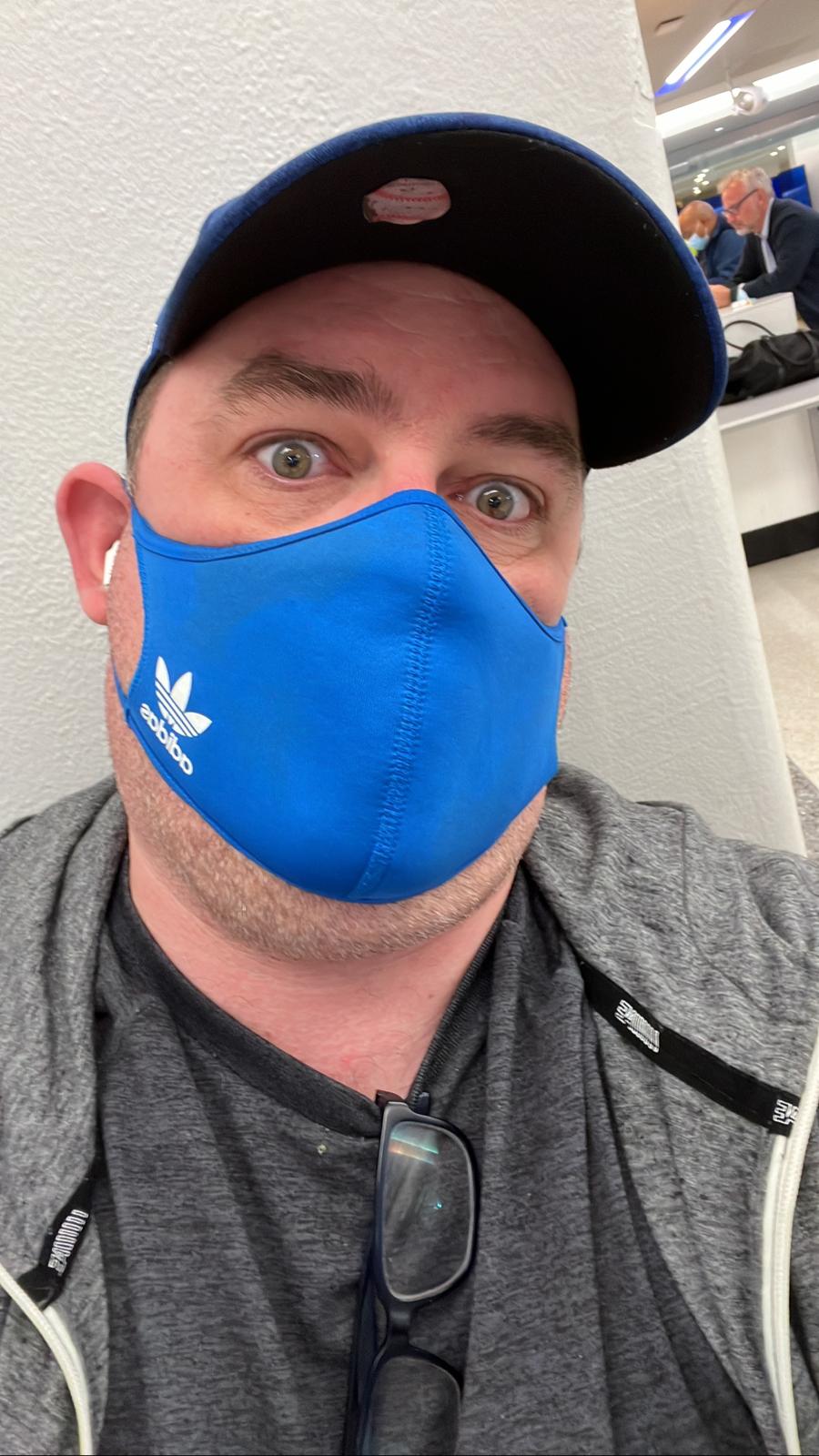 I sent this photo of me in the baggage area to a friend, this was the conversation.

Someone else texted "So… you live in Newark now?".  At this point it had been 12 hours since I landed in New Jersey and there was no end in sight.  Maybe I did live in Newark now.
After patiently waiting over 4 hours, I went back into the luggage tracking line to get an update.  The United app still said my bag was at EWR and the status hadn't updated since 7am.  The line at this point was much longer than the morning - at least 45 minutes.  When I finally spoke to the United rep she informed me that my bag was actually already in Buffalo.   When I asked how it got there before me and why the app said it was still at EWR I was met with a simple ¯\_(ツ)_/¯.
So it was now 12:30PM.  My bag was in Buffalo.  I was in Newark.  I looked at the line for United customer service and it was long, longer than I could mentally handle at this point.  I also wanted to be home by 19:00 for the Blue Jays season home opener,  so I figured it was time to execute the car rental plan.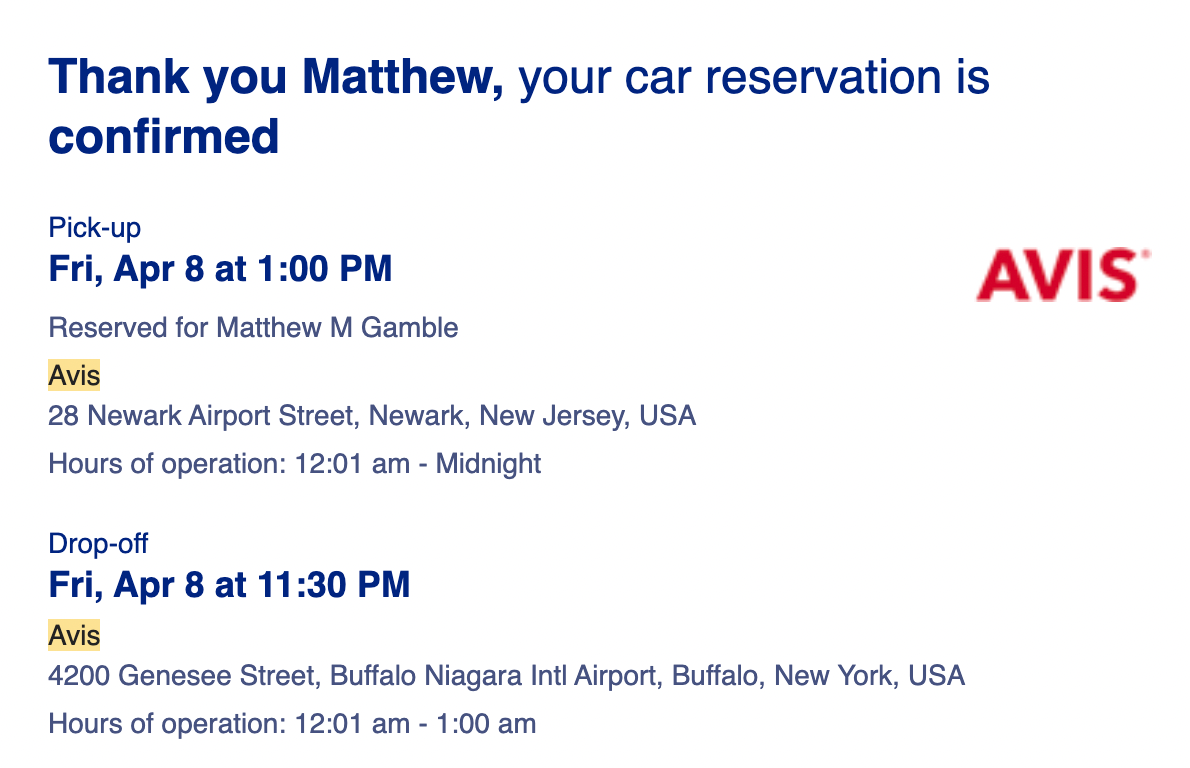 I took the AirTrain over to the rental car area and started the check-in process. Things were going smooth and my check-in was almost complete when I get a text from United telling me I am now booked on a a 14:50 flight to Buffalo.  

I had a choice to make - do I take my chances with this new United flight, or do I continue with the rental car option?  It was now 13:00, and the prospect of a 5.5 hour drive was daunting.  Putting my experiences thus far with United to the back of my mind, I cancelled the check-in process with Avis, got back on the AirTrain, and made my way to the A gates.
When I got to Terminal A, I opened the United app to get my boarding pass so I could go through security, but it wasn't there.  I could see the flight, but no option to get a boarding pass.
Heading to check-in, I got my boarding pass manually and found the problem - I wasn't actually on flight UA4187 yet, I was on standby for it.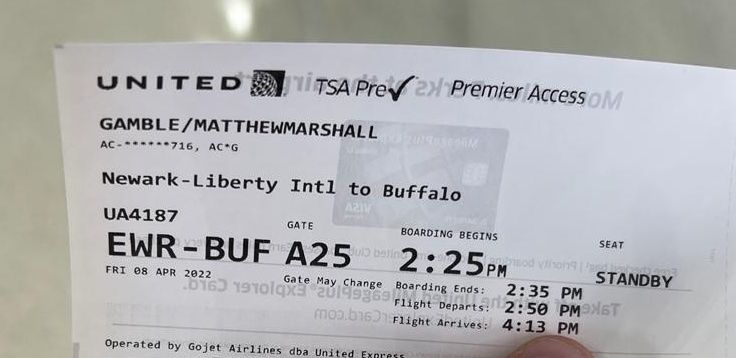 My heart sank.  It was now 13:45 and my only hope now was clearing standby for this flight.  I checked the seating chart, and there were two seats free in coach. There was a strong chance I'd get on the plane, but there was also a chance someone with better status would bump me.
I breezed through security with only one person in front of me.  I went to the United lounge in terminal A and while it wasn't busy, the pre-made sandwiches looked even worse than they did the night before.  Tired and in dire need of food, I went to the terminal and had a delicious Earls Club from Earl of Sandwich.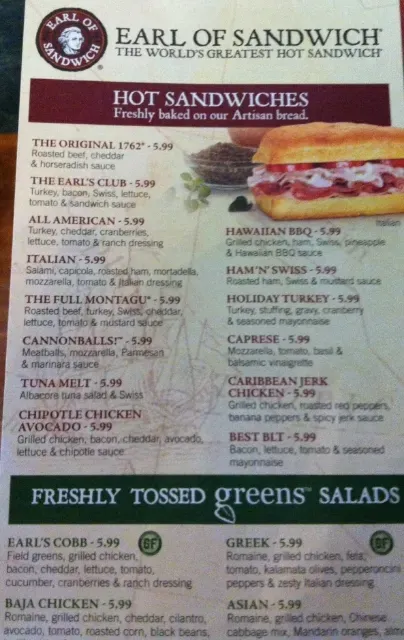 After paying for my meal I headed over to the gate.  It was now 14:10 and the standby list still hadn't been cleared yet.  At 14:20 the gate agent came on the PA and informed the crowd that boarding would be delayed - the pilot was coming in on another flight that hadn't arrived yet.  Boarding would start around 15:00.  I got another text message from United.

Sometime before 15:00 I cleared standby and was assigned a seat.  I'd cleared that hurdle, but we still didn't have a flight crew.  At 15:30 we started boarding, which finished around 16:00 but we were still waiting for a captain.  Finally around 16:10 we got a captain and things were looking good.  Paperwork delays kept us at the gate until 16:28 (remember, this was supposed to be a 14:50 departure).  So 100 minutes late, we were underway and on-route to Buffalo - only 21 hours after my original departure time.
The rest of the trip was uneventful - I got my bag in Buffalo, crossed the border without and questions, and got home just after first pitch in the Blue Jays game.  I got to watch them make an epic comeback against the Texas Rangers.  At least that was an enjoyable part of the day.  
While it was a terrible experience, I'm grateful that I have the resources to handle things like this.  An extra few Uber drives and a night in a hotel won't break me, unlike some travellers.  And since I work for myself, I didn't have a boss I had to explain the missing day of work.  A lot of people are not as fortunate as I am and I feel for them - having your life delayed by over 21 hours seriously sucks.  As for EWR, it won't be missed - 21 hours if far too long to spend in it.