Recently I've been traveling more for work and found myself in need of a good travel router to connect all my devices while on the road.  For example, when I'm in a hotel I often like to connect my Amazon FireTV stick to the TV so I can watch my content and not have to settle for whatever is on the local TV.  In some hotels this works fine, but in others they limit the number of connections per room or charge you for additional devices so its often a challenge to connect the FireTV.   The solution is to have my own router with my own SSID that I can connect all of my devices to and then connect to the hotel wifi.  I also like having my own firewalled LAN when using a public internet connection - every additional layer of security you can add helps.  
For years I'd been using a very old Apple Airport Express for this purpose, but as hotels have started phasing out wired ethernet connections it has become harder and harder to make this device work.  What I needed was a small device that would join the hotel wifi and then reshare it with my devices.  Enter the GL iNET MT300N-V2 - my new favourite travel accessory.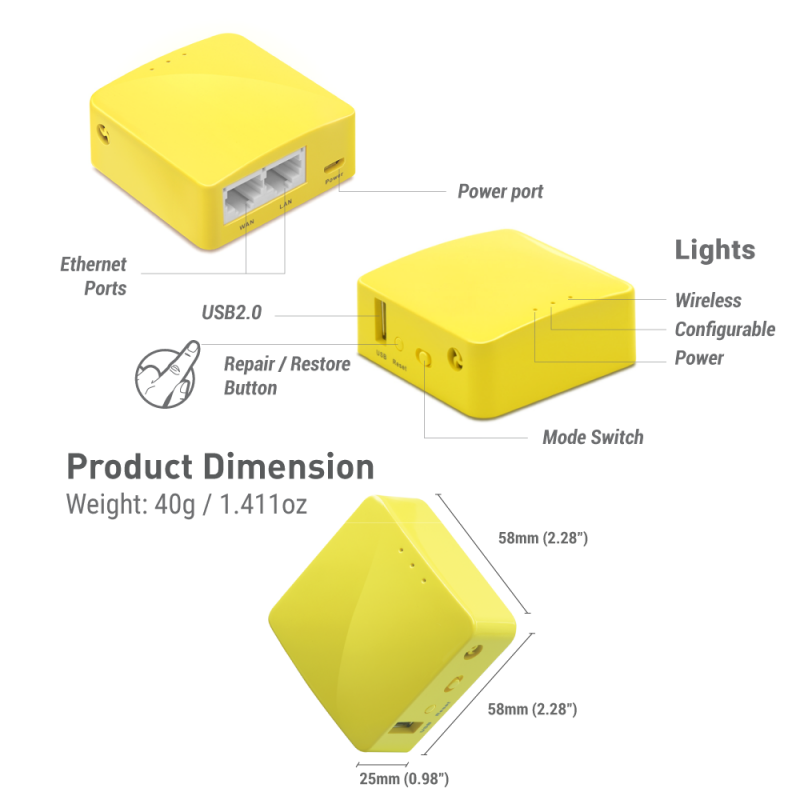 Why do I love this little router so much?  First, the price is great - at under $50 CAD on Amazon you can't go wrong.  There are other models from GL iNET as well that boast more impressive specs, but for me this one struck the right balance between performance, size, and power requirements.  One downside is that the wifi is only 2.4Ghz, and the range isn't the furthest, but it easily covers a hotel room with good wifi coverage.  And because it's powered off a standard USB cable @ 5V 1A - the device can easily be powered by a USB port on a laptop, a power bar, or off a built-in port in the hotel desk like I'm doing currently.
The other feature I really like is the built-in OpenVPN client.  When I'm traveling I sometimes want to tunnel all of my traffic back to home so I can access my development servers in my lab.  Before leaving on my latest trip I setup an OpenVPN server at my house and then configured the GL iNET router to connect to it.  Instantly all of my devices were able to use the tunnel and access my home network.  The only drawback of this setup was the performance - at best I was getting 5-10Mbps when using a full tunnel connection.  This is due to a combination of reasons - the speed of the hotel wifi, the speed of my home connection, and the CPU on the router.  I suspect switching from OpenVPN to Wireguard would also help but so far I haven't had a chance to test that yet.  But its enough for basic connectivity and worked perfectly without any hastle.
This router may not be the most powerful in terms of processing or wifi range, but as a portable solution it works great and doesn't take up a lot of space in my laptop bag, which is a major plus when trying to carry all my gear.  So if you are in the market for a travel router, this one is pretty hard to beat.