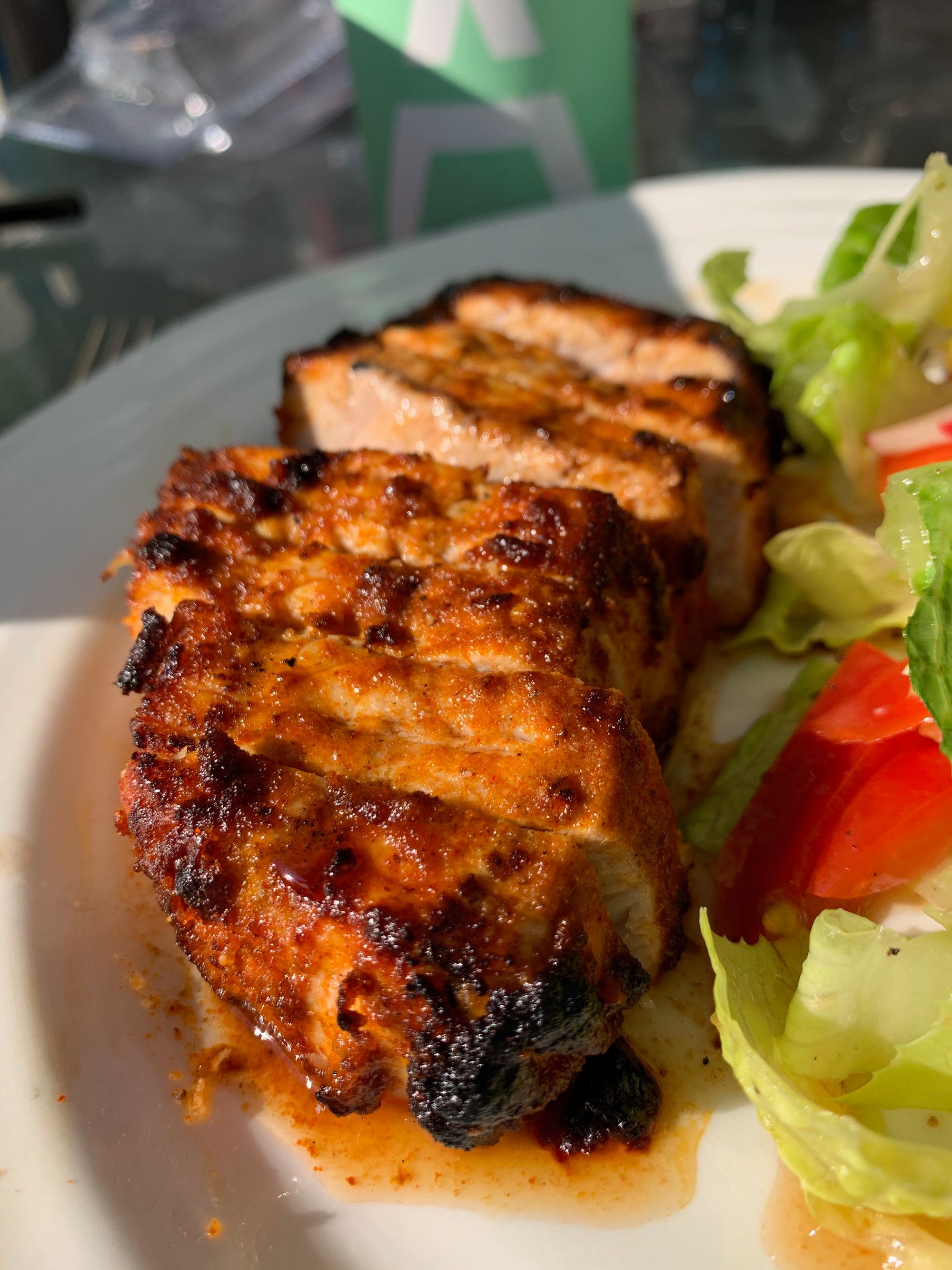 After a long day at work, the last thing I want to do is be stuck in the kitchen making dinner -  I want to be outside, enjoying what little summer Canada has. That's why I'm trying to find simple protein + side recipes that don't require me to stay inside or fire-up the oven.  
Today I present to you my wet-rub grilled pork chop - a simple, easy wet rub that makes a pork chop that is to die for.  The best thing about a wet rub is it helps keep the meat moist and tender through the cooking process, making for a delicious end product.  Served with a simple salad it makes for a quick, easy 15 minute meal that is perfect for an after-work BBQ session.
Rub Ingredients:
4 Tbsp olive oil
4 Tbsp of apple cider vinegar
2 Tbsp of paprika
1 Tbsp of onion powder
1 Tbsp of garlic powder
1 Tsp ground black pepper
1 Tsp chipotle chile powder
1/2 Tsp ground oregano
Directions:
Mix everything together in a small bowl until you have a consistent paste.
Rub the pork chops in the paste, making sure you have full coverage.
Let sit in the fridge for 4-6 hours.  The vinegar will help tenderize the meat, so give it as much time as you can.  If you don't have time to marinade, just rub and grill.  
Once you've got your chops rubbed, heat up the grill to a medium-high heat. Assuming you're working with standard 1" pork chops you'll want to grill the chops about 7 minutes per side, turning once.  The key is to ensure the pork gets to an internal temperature of at least 145. Once cooked, slice and serve with a simple side like a fresh garden salad.  
Hope you enjoy this fresh, fun, and healthy summer recipe - I know my family did.