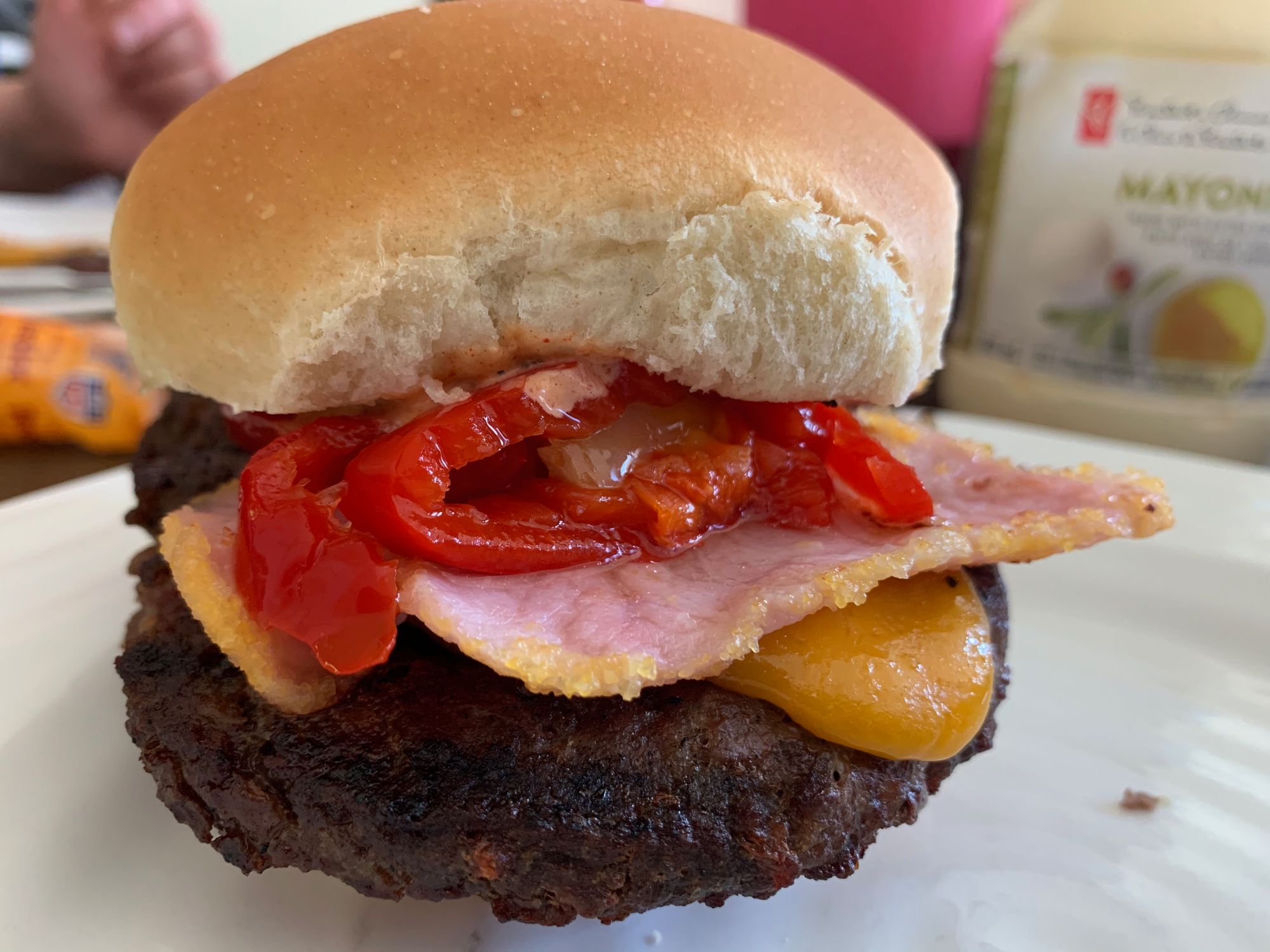 What makes the perfect summer burger?  To me, it's the right meat, the right bun, cheese, some peameal (Canadian) bacon, and then something to give the burger a bit of spicy heat.
For the meat, that part is simple - if you don't have the time / desire to make home made burgers you can never go wrong with anything from Dietrich's in Oakville. The Ultimate Prime Rib Beef burgers (featured in the photo above) are amazing
The next parts are easy as well - finding great buns is never really a challenge nor is getting cheese and bacon.  The challenge has been finding the right way to give my burgers that extra spicy heat that I love.  
Originally, I was just keeping it simple - put mayo and sriracha on my burger and call it a day.  But with all the time I've had at home thanks to COVID-19 I figured I could do better.  
Very loosely inspired by some thousand island dressing recipes, I've created what I'm calling my "Memories of COVID" sriracha burger sauce.  If you love heat on your burgers (or sausage, or really anything) and are looking for something new to try, why not give this recipe a whirl?  
Ingredients:
1/3 Cup Mayo (I use PC Mayo made with extra virgin olive oil)
2 Tbps Sriracha Hot Chili Sauce
1 Tbsp Apple Cider Vinager
1 Tsp Worcestershire Sauce
1/2 Tsp Granulated Garlic
1/2 Tsp Celery Seed
1/4 Tsp Onion Powder
1/4 Tsp Black Pepper
Directions:
Mix mayo, sriracha, and apple cider vinager in a small mixing bowl. Whisk togeter until fully consistant.
Add remaining ingrediants one at a time, whisking as you go.
Chill and serve
Since this is my first attempt at sharing a recipe of my own creation, I'd love any feedback / suggestions on how I might improve on this recipe and I hope you enjoy adding this spicy little kick to your next BBQ.